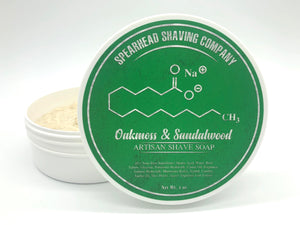 Soap Project Update
TLDR:  I'm excited to launch the first longer-run soap Spearhead Shaving Company: Oakmoss & Sandalwood.  This is phase 2 of a 3-phase soapmaking project (details below).  Thanks for all of your support with this project so far!
When I started Spearhead Shaving Company a year ago I set a goal for myself - to accomplish something I'm proud of each quarter.  It wasn't exactly a "moonshot" and my goal was intentionally vague.  But it was my effort to hold myself accountable and accomplish something creative outside of my daily job.
I already knew my first quarterly objective.  I was working on developing the Spearhead Safety Razor Case, which continues to be my most popular product.  The next quarter I released Shave Notes, a pocket-sized SOTD journal with wet shaving patent art.
When 2020 started I set my sights on a more ambitious goal - to revive a 1940's era wet shaving brand that has long been out of business.  I enjoyed reviving the 1918 Khaki Set when I created the Spearhead Case.  Holding both side-by-side was gratifying.  I was similarly drawn to the idea of bringing back a shaving soap relic from the past.
But the learning curve and the number of "moving parts" to a project like this was far too much to accomplish in one quarter.  So I broke the project into 3 phases:  LEARN, SCALE, LAUNCH.  It will take several more months to reach my final objective, but we are making progress.   
Quarter 1 of 2020 was the LEARN phase.  My goal was to learn the art of soap making, fragrance, and label printing, etc.  The public face of this phase were my Experimental soaps.  I created 13 versions of my soap base before offering it for sale, and another 14 versions as Experimental soaps.  
Some were hits and others were just ok.  But what energized me the most was that people appreciated the "concept" of this work-in-progress.  I was asking people to take a small gamble with each soap they bought.  I tried hard to be completely transparent with what an Experimental soap was, and in return I received a lot of constructive criticism and helpful feedback.  
By the end of the quarter I landed on 2 soap bases: 17.2 (super rich but thirsty) and 20.1 (similar but easier to lather).  I expect to continue making experimental soaps because there are always new things to try.  But I am pleased with the output from the first phase of this project.
Quarter 2 is the SCALE phase, and I'm excited to offer the first output from this phase: Oakmoss & Sandalwood in the 20.1 base.
I'm not scaling to hundreds of soaps at a time.  But I am working on increasing my batch size, managing the influx of more materials, simplifying fulfillment, etc.
Until now my largest batch size was 12 soaps.  My goal in this phase is to have longer runs of some popular scents.
I ultimately settled on formula 20.1 for these releases.  It is a rich and creamy base with great slickness and a smooth lotion-like feel.  It's a base that can stand on its own with wet shaving enthusiasts.  But more importantly it is very easy to lather and forgiving, even when the lather isn't perfectly dialed in.  Its important that we expand the wet shaving community, so I chose a base that's friendly to new wet shavers.  
These soaps are $12.99 for a 4oz tub.  I have tried hard to price these soaps as reasonably as possible for a handmade, butter-rich shaving soap.  All profits from these soaps are being put toward funding the next phase...
Quarter 3 is a culmination of these efforts.  Details about this phase will develop in the coming months, but I am very excited about what's to come.  I've recruited some help to make phase 3 something special :)
Thank you to everyone who has contributed to this project.  This includes those who have bought Experimental soaps, given feedback, shared advice, and helped me with the development of some of these phases. 
My goal is not to become a high-volume soap producer - I travel too much for work to ever have that kind of capacity.  Rather, my goal is to make something I'm proud of and something the wet shaving community can enjoy.
This project has already been immeasurably rewarding, and there is still much to be accomplished.  Thanks for all of the support so far.  I look forward to sharing more details as they develop.
Best Regards,
Dennis 
---