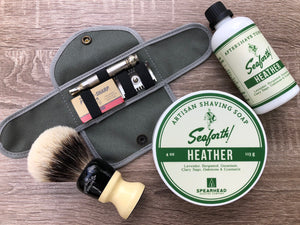 Seaforth! Release Date: October 1, 2020
In 1939 Alfred McKelvy influenced a generation of wet shavers with his iconic Seaforth! brand of shaving soap and aftershave.  Seaforth! featured great scents, unique packaging, an energetic spirit, and catchy phrases like "Spiced Light...Spiced Right!"
I'm excited to announce the rebirth of Seaforth! on October 1, 2020 with the release of Seaforth! Heather and Seaforth! Spiced.  Both scents will be available in shaving soap and alcohol-free aftershave toner.  
Seaforth! draws inspiration from McKelvy's original brand with modern takes on the original products.  Our scents were developed by award-winning perfumer Shawn Maher of Chatillon Lux and Maher Olfactive.  The vision for Seaforth! was to interpret the scent structures and notes of classic scents, but through the lens of a person in 2020.  The result is two outstanding scents with vintage inspiration and modern appeal.
Seaforth! Heather is a classic fougère structure, but instead of a dated, oakmoss-heavy fougère, it leans to the light and soapy side. It has a crisp green note of clary sage in place of the weighty, damp green oakmoss, fortified with a big dose of French and Bulgarian lavender and sunny bergamot citrus. Along with geranium, a classically crisp, fruity-green note, Heather is an invigorating, refreshingly classic scent without feeling dated. 
Seaforth! Spiced is a classic structure that we all know and hold nostalgia for, but with fresh life breathed into it. The opening feels new by using a more modern mandarin citrus and different aldehydes.  Meanwhile, the base underneath is familiar, with warm spices, creamy sweetness and a classic finish. Spiced is a new and inviting take on the classic spice scents of the mid-20th century.
The soaps are in our 20.1 base - a slick and creamy tallow-based soap loaded with rich murumuru butter, shea butter and jojoba oil.  The aftershave toner removes the alcohol for a skin-friendly and lightweight post-shave splash.  With witch hazel, aloe and glycerin, it's a clean and refreshing splash to finish a shave and extend the Seaforth! scent.  
Seaforth! soaps and toners will be available at Spearhead Shaving, Maggard Razors, West Coast Shaving, Top of the Chain, and Shave Mercantile.  
---