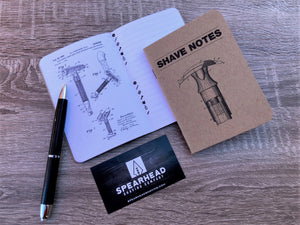 Introducing Shave Notes - Shave of the Day Notebooks
Capturing a "Shave of the Day" is part of the daily ritual for many wet shavers.  Some post religiously to reddit and others take impressive instagram pictures.  But some prefer a decidedly old-school record of their daily shave - pen and paper.
I am excited to introduce Shave Notes - a pocket sized wet shaving journal to capture daily shaves.  Shave Notes combines a simple and convenient SOTD template with early wet shaving patent art from the early 20th century.  The result is a pocket ledger tailor-made for traditional wet shaving.
SOTD Template
Shave Notes is a 32-page pocket notebook measuring 3.5" x 5".  Its size makes it convenient for daily use and small enough to tuck into a toiletry bag for travel.
On the front of each page is a custom template for recording the tools, products, and notes for the daily shave.  The icons are designed to capture:
Time & Date
Razor
Blade
Brush
Soap/Cream
Aftershave/Fragrance
Notes
The icons a designed to create a convenient template without getting in the way.  This gives the flexibility to track any additional information that might be important to the user (how many uses on the blade, how many "stars" for the fragrance).  It also gives the flexibility to use the notebook as a general purpose notepad - just one with interesting wet shaving artwork.
Each 32 page book will record a full month of daily shaving.
Patent Art
The left-hand pages celebrate the history of wet shaving with an original patent drawing from the early 20th century.  The drawings have been remastered and enhanced from the historical records to give a clear view into the inventor's original design. 
The drawings include safety razors, straight razors, brushes, and other wet shaving inspired inventions.  Many of them will be immediately recognizable as designs that are still used to this day.  Others have been lost in the annals of history (although at least one of the more curious designs has been revived by a modern company). 
Made in the USA from quality recycled paper
Shave Notes is proudly Made in the USA - designed in Ohio and printed in Oregon.  Even the 100% recycled paper is sourced from US mills.  
The heavy 70# recycled paper performs well with all writing tools - pencils, pens, gel pens, and fountain pens.  Fountain pen ink dries quickly with minimal feathering, ghosting or bleed through (mostly with very wet pens).
Perfect for beginners & enthusiasts alike
Beginners can benefit significantly by keeping a log of their daily shaves.  It helps shorten the learning curve by tracking all of the different variables associated with traditional wet shaving.  New wet shavers can easily track which combination of blades, tools and products work well for them and watch how their technique performs over time.
Shave Notes also allows enthusiasts to track all of the different products, gear and scents that cycle through their collection.  The traditional practice of hand-writing adds to the overall shave experience while the artwork captures the timeless nature of traditional wet shaving.
Inspired by History
Shave Notes is inspired by agricultural pocket notebooks, which were extremely popular throughout the 20th century.  Many millions of pocket notebooks were produced by agricultural companies (tractors, fertilizer, seed) and given out as promotional gifts. 
The notebooks were intended to track farm data, but the convenient notebooks were often used to keep general everyday notes (although probably not a log of wet shaving and fragrances).
The vintages notebooks in my collection are a look back in time:
Someone planning at stay at the Pan American Hotel in 1901 ($1/night)
A winemakers log of batches (3, gal concord, 2 gal crabapple, 1 gal blackberry that turned out too sour)
A laborer's work log of hauling lumber and selling apple cider on the side
Mr. Magsig's automobile & tractor purchases - a 1940 Chevy sedan & 1938 John Deere Tractor
Dates of the Pottsville PA fair...not to be missed!
If you're interested in the rabbit hole of pocket notebook history check out The Pocket Notebooks of 20 Famous Men, or the history of John Deere's Farmer's Pocket Journal, printed from 1867 to 2010.
Availability
Shave Notes is available in packs of three at SpearheadShaving.com as well as at Maggard Razors.  Note: I currently only ship to US addresses, but Maggard offers fast and affordable international shipping.  
Thanks for taking the time to read about my newest wet shaving project.  I hope you'll consider adding Shave Notes to your next mail call!
---