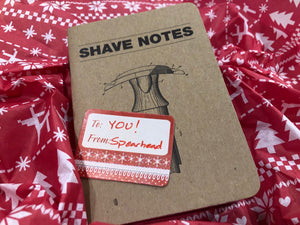 FREE GIFT and FREE SHIPPING with any order!
Happy Holidays from Spearhead Shaving Company!  From now through the end of 2019 we will include a free gift and free shipping with any order - no promo code necessary.  
What's the free gift?  A Shave Notes Wet Shaving Journal - a $4.99 value.  These journals include a custom template for tracking your "shave of the day" as well as 16 remastered patent drawings from early 20th Century wet shaving inventions.  
Traditional wet shaving products make unique and thoughtful gifts... I know because I received my first wet shaving set as a Christmas present!  Shave Notes is a nice addition to a Spearhead Safety Razor Case or Gift Set and will be appreciated by new wet shavers and enthusiasts alike.
No promo code is necessary to claim this offer.  My elves (daughters) will carefully tuck a Shave Notes journal into your package for any orders placed by the end of the year.
Happy Holidays and thank you for visiting our store!
---