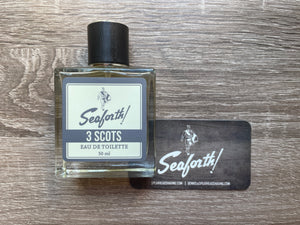 3 Scots - The Seaforth scent that never was
A limited release of 24 bottles of 3 Scots EdT will drop Monday, October 2 at noon (Eastern) to benefit a local music program serving 130+ students.
Scholars of vintage Seaforth shaving history (if such a thing exists) will realize that Seaforth 3 Scots never existed.  And they would be correct. 
All of our products are based on vintage Seaforth shaving goods from the 1930's through the 1970's.  So why release EdT based on a product that never existed?  And why is it my favorite product in our lineup?
Development
The story begins just after the release of our first two products - Heather and Spiced.  Shawn Maher, the perfumer behind all Seaforth scents began work on our Black Watch line. 
The process of developing a new scent is the most enjoyable thing we do.  We start by sending Shawn a bottle of the vintage scent so he can get a feel for the notes and overall vibe.  
But the fun part is discussing the overall context of the scent.  What was Seaforth trying to accomplish?  Were they following current trends or trying to carve out a new niche?  What was happening in the culture that influenced men's preferences at the time?
In the case of Black Watch, they were trying to move from the drugstore market to high end department stores.  Black Watch was the high end scent that would get them there.   
Our rendition of Black Watch spent almost two years in development with numerous scent profiles created.  Four versions made it to testing in soap and aftershave, and we finally narrowed it down to two.  I was indecisive on which to release so we made the fragrance oil for both.  
The version we chose for Black Watch became one of our most popular scents.  And when I revisited the second version this summer I remembered why it was a tough choice.  The two scents are very different but they both fit what Black Watch was trying to accomplish - a warm and interesting high-end scent, perfect for cooler weather.  
We have made the second version into 24 bottles of EdT, with 100% of sales going to a local school music program.  
A Worthy Beneficiary
I was a member of our marching band in high school.  It was rewarding in a lot of ways.  Mostly because that's where I met my future wife :) 
When we moved back to our home city to start our family we heard good things about the direction the program was heading.  They were growing in size, getting more sophisticated, and winning some impressive national awards.  
Today a new generation of my family is part of the same program.  Life comes full circle sometimes!
But I've learned a few things by viewing the program as an adult:
1) It's super expensive to run
2) Not everyone can afford it
3) It is needed now more than ever
The band program does a tremendous amount of good for 130-150 kids annually, whether they can afford it or not.  One season provides hundreds of hours of exercise and music education.  It teaches discipline, time management, leadership, and attention to detail.  It lets kids travel the country and experience new things.  
Most importantly, it gives students a sense of purpose and chance to be part of something bigger than themselves. Kids need that.
Our program charges 3-5x less than many competitive bands and never turns anyone away.  The balance is made up through fundraising, which can be...intense...at times.
Which brings me to why 3 Scots is my favorite product.  The 3 Scots EdT release will pay for two additional kids to enjoy this amazing program.  I can't think of a better way to put this unreleased Seaforth scent to good use.  THANK YOU for making this happen!
- Dennis & Family
Postscript - 3 SCOTS, or 3rd Battalion Royal Regiment of Scotland is also known as the Black Watch Regiment.  This storied Highland regiment served as the namesake for a classic Seaforth scent.  
---